Target has interesting collaborations with designers. To get a hold of these items is quite an adventure in itself. Usually I stick to online ordering. But its nerve wracking to order clothing unless one is really familiar with the clothing company's sizing standards.


The previous clothing designers for Target were Rodarte and Gaultier. They had hit or miss clothing items with quality that ranged from cheap to well made. I preferred the skirt offerings over the dresses etc. from both.




I discovered that Target seems to follow standard dressmaker's sizing. Which means everyone will need to size up a bit to wear Target clothes. And Junior sizing is really Junior sizing, so women will definitely need to size up a lot.




The Liberty of London line caught my eye with an interesting selection of flower prints. These prints were spread around their clothing, housewares and active selections. However, the availability of these items are spotty. The chairs (the most attractive item in the whole line) were sold out in every store I visited. Which is no surprise since the sample item on show was sturdy and well-made. The dishes were also unavailable. So I can't vouch for their quality. But I'm hesitant to buy anything made of melamine. The pillow selection for Liberty Target was very nice. The pillows were comfortable, soft with very durable fabric. There were some available in the stores I visited, but most of the fabric choices were sold out.




The clothing...well...most of them look better online then off. Many of the cuts would probably look better on longer body types than smaller, heavier bodies. Which was the case with me. What was also confusing was that the clothing line played fast and easy with size standards. In some cases, the clothing stayed true to dressmaker size. But others were larger than standard.



That was the case with the above dress I'm wearing above. I sized up because I need room in the bust line. In most regular clothing stores, I wear a size 6 or 8. In standard dressmaker's sizes, I wear a 12. This particular dress is a size 12. It fits nicely on top, but the waist and hips had too much room. As can be seen, it hangs from my chest with no nip in the waist. I probably should have sized down. But this type of cut never really flattered my figure. So I didn't try on the smaller size.
However I will say that out of most of the Liberty dresses, the Shift was very well made. It had a very substantial material which felt silky and heavy. It didn't feel as if it would rip or fray easily. Besides the strange sizing, the only other drawback would be the zipper. I had a hard time zipping it up, it seemed to catch on the fabric midway up. It took some heavy yanking to close it.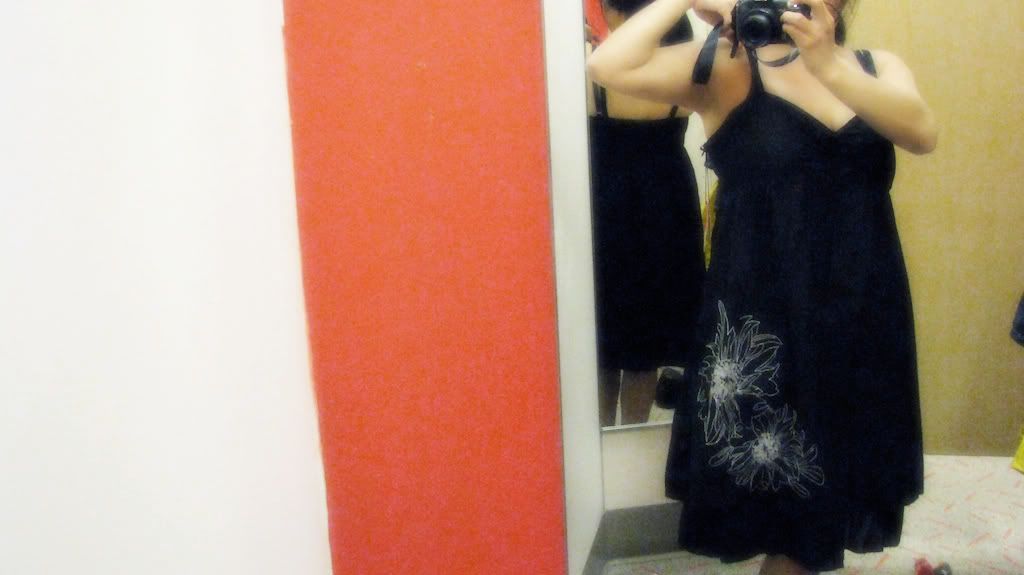 This was my favorite of the whole clothing line. And it happens to be the most staid too. The only nod to whimsy are the stitched flowers. It is an empire cut that fits tightly to the bust and billows out. This particular cut tends to add bulk since it doesn't emphasize the waist. And I've read in various reviews that some shoppers felt that they looked pregnant in it. I like Empire styles, so the flowing material didn't bother me. The dress works well, being in between formal and informal. It did run true to dressmaker size, and the size 12 fit me well. The material is soft cotton with a good lining so the dress holds it shape very well and doesn't droop.
I tried on some of the tops from the Liberty line as well. And to my eyes, on my shape, they jumped over funky and went straight to dowdy. Some of them reminded me of my Grandmother's clothing. They also ran big. I would have taken a medium in the blouses if there had been any available and I was interested.
This designer line was big on flounces around the neck in many of the items. Which, again, is not very flattering towards fuller figures. I've learned to stay away from flounces. Which meant most of these clothes were not for me.
I didn't try on the lingerie pieces but the swimwear was very nice. I purchased the Grand Royal Tankini and was very happy with the fit.
All in all this particular designer collaboration with Target is a success.
Labels: fashion, Liberty of London, personal, shopping, Target